What's New?
A Portrait of Sonoma County
"A Portrait of Sonoma County" is the second county-level report in the Measure of America Series. Commissioned by the Sonoma County Department of Health Services, it is an in-depth analysis of the health, economic, and educational conditions of people living in the heart of California's Wine Country.
Announcing NYC Data to Go
Measure of America recently received a grant from the Helmsley Trust to create NYC Data to Go, an unbiased, user-friendly resource for understanding the needs and assets of communities across the New York metropolitan area.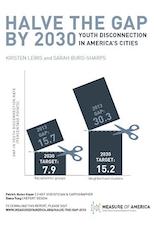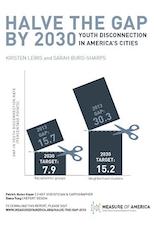 Halve the Gap by 2030
An astonishing one in seven teens and young adults is not in school and not working. And youth disconnection rates in some neighborhoods are higher still—one in three young people is adrift. Ambitious, time-bound targets are needed to spur action and accountability. Read the report here.
2013 Opportunity Index
How does your county or state fare when it comes to opportunity? Has it improved since 2012? Check out the third annual Opportunity Index, with rankings by state and county.
Interactive Maps & Data
Ever wondered how your state or congressional district stacks up compared with your neighbors on life expectancy, preschool enrollment, earnings or dozens of other indicators? Create customized maps for every state and congressional district or for local areas in California, Louisiana, and Mississippi. Build and sort data charts for over 100 indicators.
Explore the Maps
---